Battle of the Mentors – an extension of the 2017 Three Minute Thesis
Are you an early career researcher? Are you looking for a research mentor?  Don't miss this unique mentorship opportunity!
The 2018 Health Beyond Research and Innovation Showcase will be featuring leading researchers battling it out to be your mentor.
Pitch your research project in a 5 minute blind audition, in which experienced mentors (all established researchers in their field) listen to your presentation, in chairs facing away from the stage.  If a mentor likes what they hear, they turn their chair.  If more than one mentor turns then the battle begins and at the end of 10 minutes you chose (with the help of the audience) the mentor that you would like to work with.
Click the below image to see an example application form.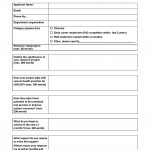 Applications for the Battle of the Mentors 2018 have NOW CLOSED.