Innovation Tank (only open to SWSLHD and Ingham Institute staff)
Do you have an innovative idea that will benefit the health of people living or working in South Western Sydney? Do you have an idea that would change the way we deliver healthcare, such as the development of an app, a rapid diagnostic test, a new rehabilitation program or an education program? These are examples and not limited to those listed. The opportunities are endless and there will be a unique opportunity at the 2018 Health Beyond Research and Innovation Showcase to present your idea to our panel.
A total of $60,000 will be available. You have an opportunity to receive funds from anywhere between $0 – $60,000. The total could be shared, or won by an individual. The funds are to be spent on work-related expenses and not for personal use. Winners will be required to submit reports on expenditure and outcome of their idea development.
To participate in this exciting opportunity you are invited to submit an application with the chance to be selected as a finalist to present your idea in a 5 minute pitch to our panel. The panel will discuss the pitches in front of the audience and decide how the money will be disseminated.  There will be audience participation to try and persuade the panel on which pitch/es best deserves the money.
Click the below image to see an example application form.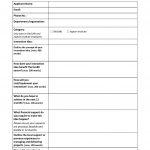 Applications for the Innovation Tank 2018 have NOW CLOSED.