Fairfield Hospital Showcase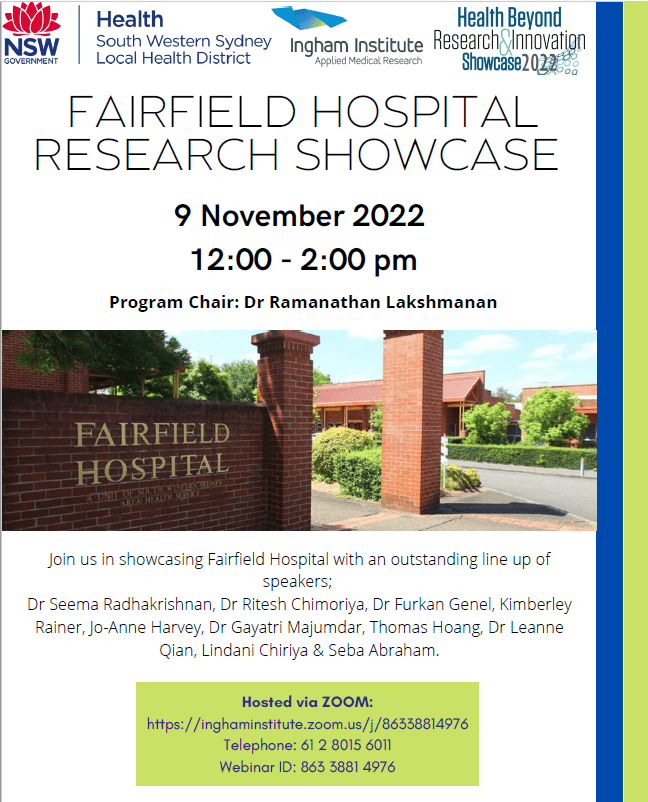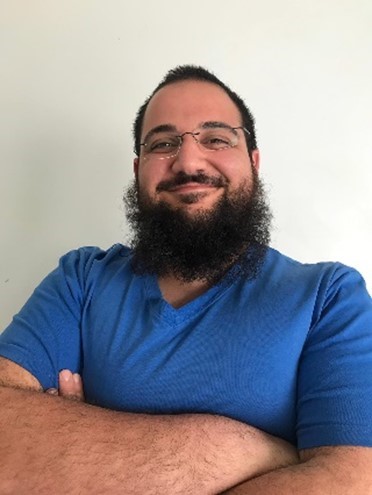 Dr Furkan Genel 
Dr Furkan Genel (B Med Sci (Hons), MD) is a PhD candidate at UNSW. He worked as an Orthopaedic Registrar in Christchurch Hospital, New Zealand and is now working as an Orthopaedic SRMO at St George and Sutherland Hospitals. Furkan's research focuses on addressing issues affecting complications after knee or hip arthroplasty.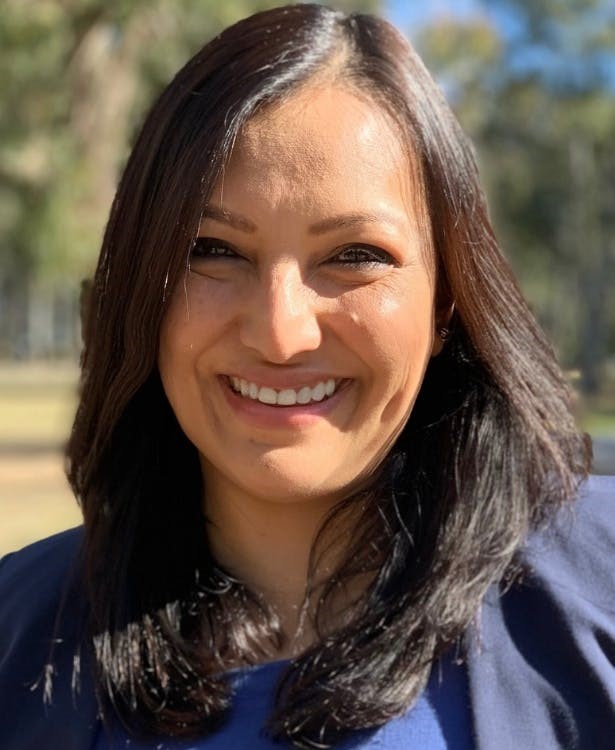 Gayatri Majumdar 
Gayatri is a physician with expertise in general and geriatric medicine and takes great pride in her thorough caring approach.
Her specialist practice consists of more than 5 years of experience in perioperative care, comprehensive geriatric reviews, ortho-geriatrics, acute geriatrics, cognition assessments and management of BPSD. She is passionate about maintaining good communication with colleagues and patients, and practises holistic general and aged care medicine.
Her research has included presentations at many national conferences. She is an advocate for Quality Improvement and is currently involved in research projects with Sydney South West Area Health Service.
Gayatri graduated with a Bachelor of Medicine and Bachelor of Surgery with Honours and is a Fellow of the Royal Australian College of Physician (Geriatrics). She obtained her specialist training from Concord, Royal Prince Alfred and Liverpool Hospitals in Sydney. Gayatri is a member of the Australian and New Zealand Society for Geriatric Medicine (ANZSGM).
Gayatri provides Geriatric services at Fairfield Hospital.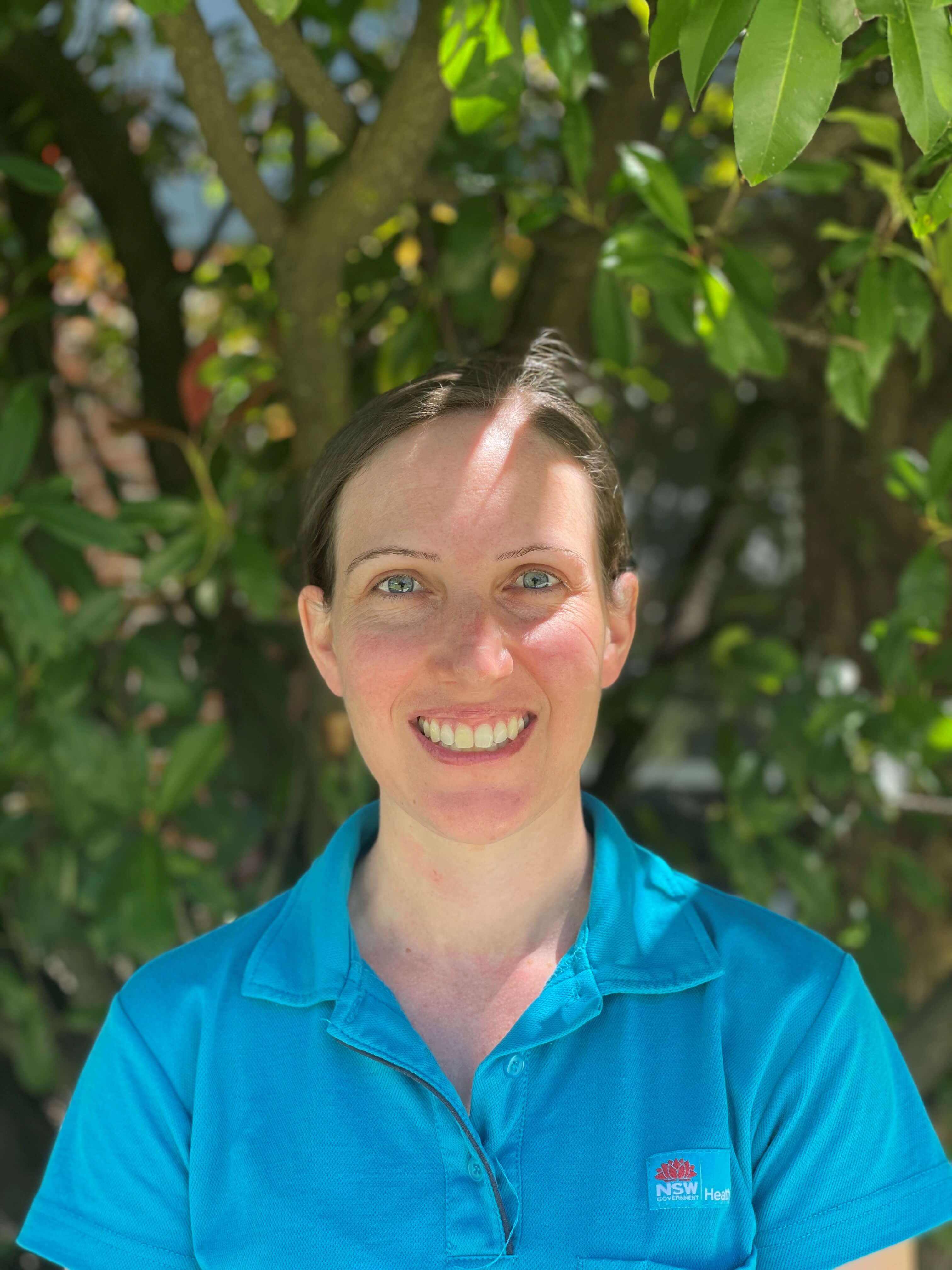 Kimberley Rainer 
Kimberley Rainer is an Accredited Exercise Physiologist working within Cardiac Rehabilitation at Fairfield Hospital. Kimberley's passion for helping people and improving one's quality of life has extended to improving staff wellness. Kimberley has recently presented at the 31st Annual Scientific Meeting of the Australian Cardiovascular Health and Rehabilitation Association and was honoured with the Clinical Excellence Showcase Award. Kimberley's quality project has also recently won the highly commended award at the South West Sydney Local Health District Quality Awards.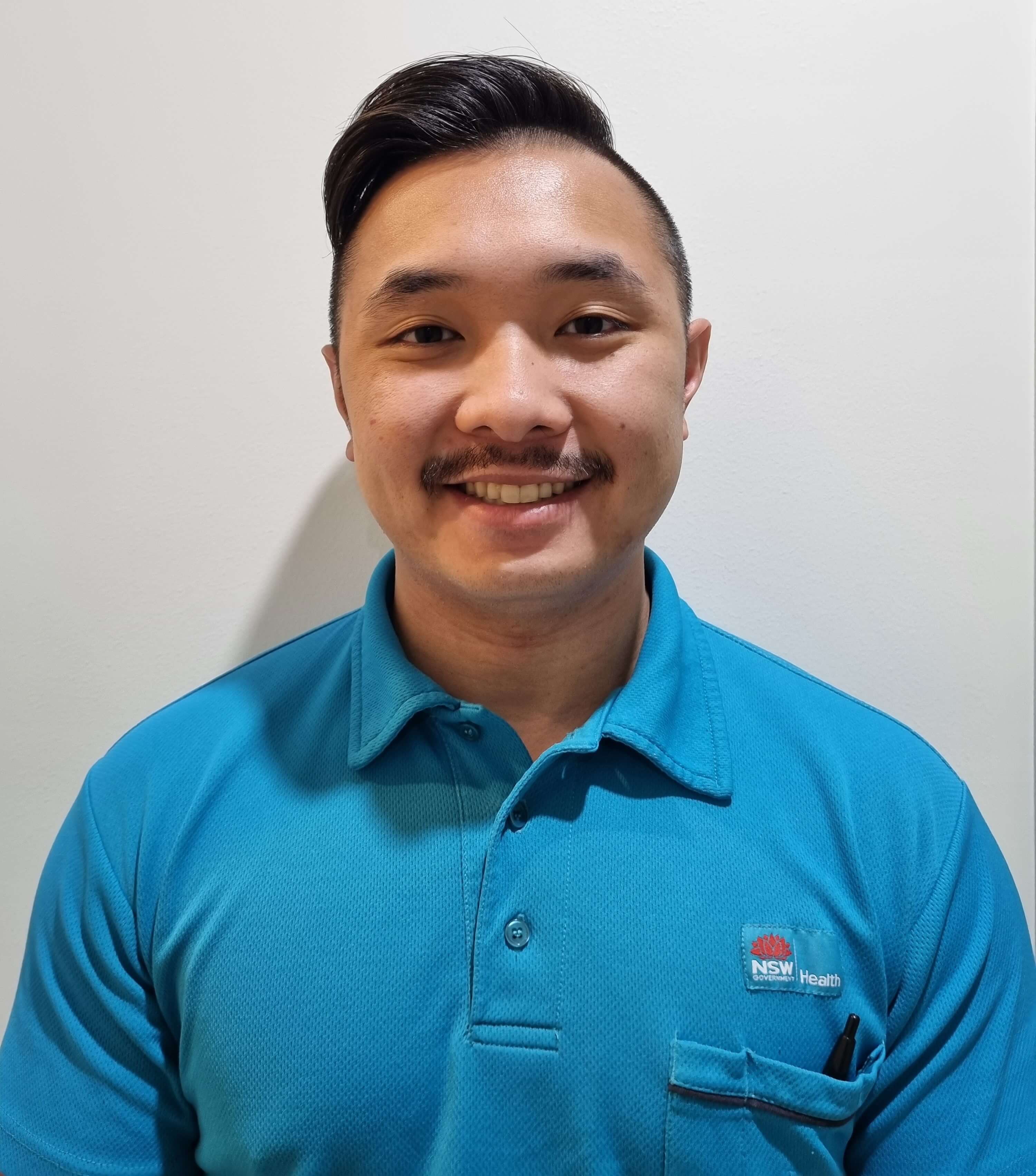 Thomas Hoang 
Thomas Hoang is a registered physiotherapist working at Fairfield Hospital who is currently acting in a senior role as a musculoskeletal coordinator at the Fairfield Orthopaedic Hip and Knee Service providing osteoarthritis chronic care treatment (OACCP). He has a strong interest in orthopaedics, including pre- and post-operative management of elective joint replacements and musculoskeletal physiotherapy. Thomas's current role involves providing education for patients with severe osteoarthritis to promote self-management of their joint pain and related health conditions. He also helps in optimising their function from both a pain and mobility perspective to enhance their quality of life as they await elective surgery. Thomas works collaboratively with nursing, orthopaedic surgeons, general practitioners and other health professionals to promote holistic multidisciplinary patient care.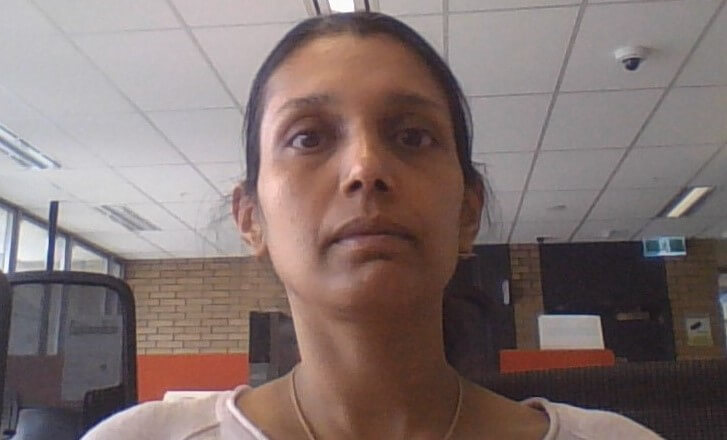 Dr Seema Radhakrishnan 
Dr Seema Radhakrishnan is a staff specialist in rehabilitation at Fairfield hospital and a conjoint lecturer with school of population health, UNSW.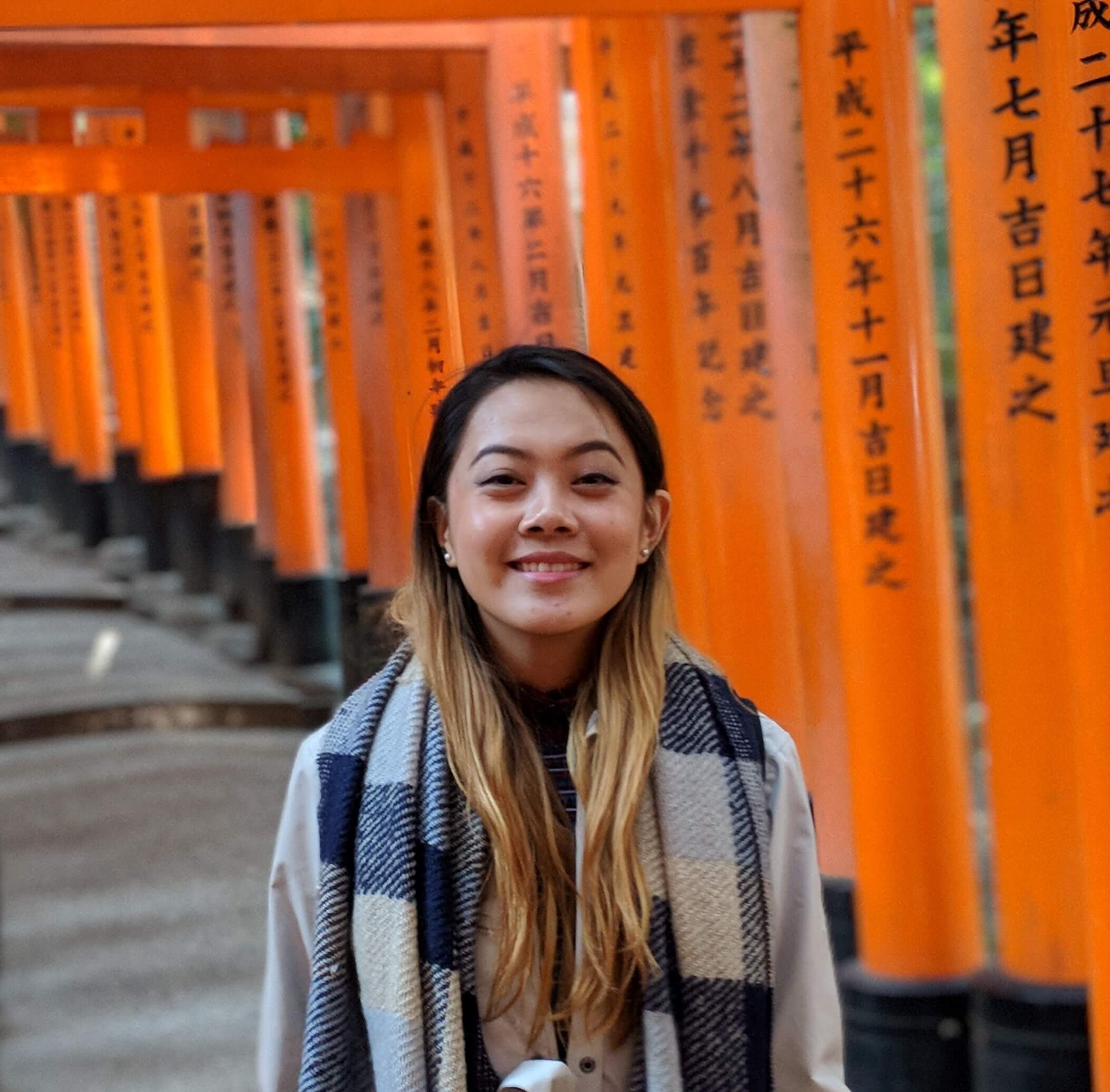 Dr Lianne Qian 
Leanne is a current ICU/anaesthetics trainee at Fairfield Hospital. She has a strong interest in clinical governance. She has recently completed a fellowship with the International Society for Quality in Health Care. She has been the Chair of the JMO Innovation and Improvement Committee of various hospitals and is a keen advocate for junior doctors to get involved in quality improvement. She has research interests in perioperative medicine and anaesthesia.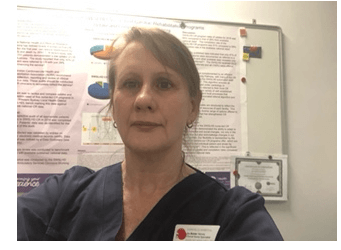 Jo-Anne Harvey 
Jo-Anne Harvey Clinical Nurse Specialist level 2 the Coordinator of the Fairfield Heart Recovery Program (cardiac rehab) at Fairfield hospital.  Passionate about cardiac nursing represented over 15 years of experience from the acute cardiac, intervention, surgical and outpatient setting. Graduate Certificates in Cardiac Nursing and Health Service Management (Safety and Quality).  This year co-presented at the Annual Scientific ACRA conference and awarded the Clinical Excellence Showcase and was highly commended at the SWSLHD quality awards for the Cardiac Care for Staff repair quality project.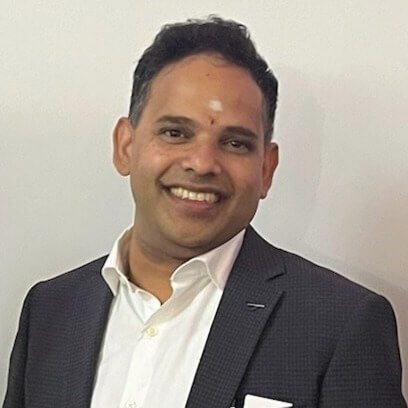 Dr Ramanathan Lakshmanan 
Dr Ramanathan Lakshmanan is an enthusiastic, diligent and skilled Intensive Care physician with sound clinical, academic and research background and experience. Dr Lakshmanan has published 8 peer reviewed journal articles over the last 5 years and presented in various international and national conferences. With academic attachments as conjoint Sr Lecturer with UNSW and WSU, Dr Lakshmanan contributed towards teaching Year 2 students in WSU and supported the examination process for year 2 and year 3 during the years 2013 and 2014. He has proven ability to work as an efficient inter-disciplinary team member with a high level of interpersonal communication and management skills as demonstrated in my role as the Executive Clinical Director for Fairfield Hospital, Chair of the Fairfield Medical Staff Council and Director and Head of Department of Intensive Care Unit at Fairfield Hospital. He has a desire to challenge and help others develop their skills and career with high standard of excellence. Dr Lakshmanan has demonstrated this by working with the SWSLHD and Fairfield Hospital executives and establish a Level 4 ICU with the help of ACI – Intensive Care NSW. He has demonstrated ability to draft, implement and actively participate in quality assurance programs. With his added role as the Donation Medical Specialist for the NSW Organ and tissue donation Service, he was involved in improving the donation rates for the LHD. He has been a volunteer with community organizations, providing community services and many health awareness talks.  He prides on a job well done and strive to achieve the best possible outcome for both work and family life.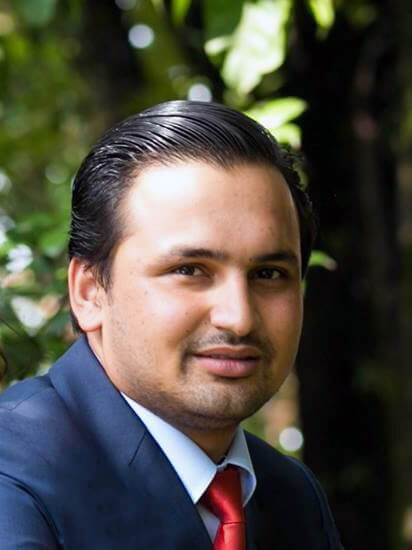 Dr Ritesh Chimoriya 
Dr Ritesh Chimoriya is a final year PhD candidate at School of Medicine, Western Sydney University. His doctoral research explores the complex relationship between obesity, type 2 diabetes, and non-alcoholic fatty liver disease. As an overseas trained physician and a doctoral researcher, he is experienced in interlinking research and clinical practice. Ritesh completed his MBBS in 2016 from Kathmandu University and MPH (Hons) in 2019 from Western Sydney University.